Quality Termite Control Services For Greater Kansas City Area Homes & Businesses
Contact us for your free termite inspection today!
Did you know that when left uncontrolled, termites can cause significant damage to a home in as little as six months? It's true! In fact, every year, termites are responsible for over $5 billion dollars in property damage in the United States alone. Don't underestimate these pests! Instead, take action against termites before they have the chance to invade! The best way to prevent termite damage is to schedule a visit with one of our licensed technicians and get started with our professional termite control services today!
Augustine Exterminator's Professional Termite Control Offerings
Quality Termite Control Inspections
The first step to determining whether or not you have a termite infestation is to schedule a free inspection for your home. Our technicians will confirm if there is a problem, and where the termites are most concentrated. After the inspection, you'll receive a document explaining our recommended treatment option. At this time, you'll be given a quote based on the treatment options needed. Our technicians will make sure that you understand your options and warranties.
Our Termite Treatment Options
Here at Augustine Exterminators, we understand that every termite infestation is different, which is why we tailor our treatment plans to meet the specific termite control needs of your Kansas City area property based on the results of your inspection. This allows us to make the best recommendation for your property based on the level of termite activity found.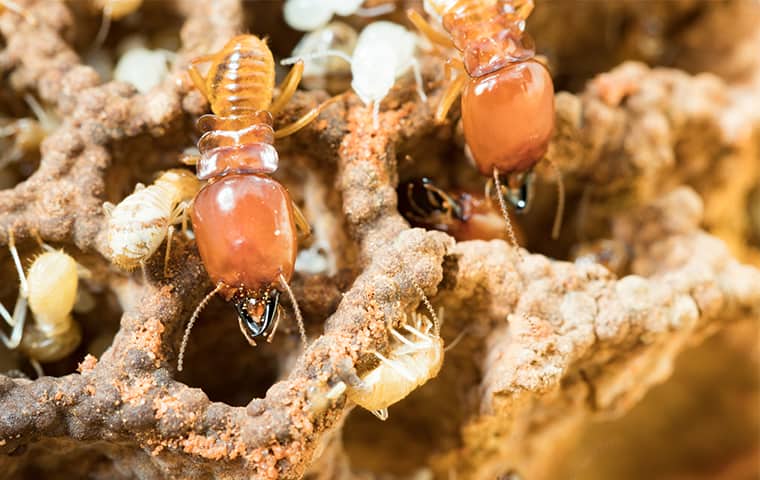 Liquid Termite Treatments (Termidor®)
At Augustine, the first treatment method we utilize is Termidor® termiticide. This cutting-edge, liquid treatment begins working upon contact. This means faster results and added peace of mind. In addition, our Termidor® treatments come with a five-year transferable warranty, so you'll never have to worry about losing the money you've invested in your termite control treatments!
Termite Baiting System (Advance® Termite Bait System)
We also utilize the Advance Termite Bait System manufactured by BASF. The Advance Termite Bait System (ATBS) is the most effective, reliable and fastest-acting termite baiting system available. The Advance Termite Bait System is strategically installed around the perimeter of your residence creating an active termite "barrier" around your home protecting it year-round. After the system is in place, we return to check and service the stations to ensure that the system is operating at an optimal level. Unlike other companies that utilize baiting systems to treat for termites, we don't just 'set it and forget it'!
Protect Your Biggest Investment From Termite Damage By Partnering With Us!
Your home is your single biggest investment. At Augustine Exterminators, we can help protect your Kansas City home from termite damage through our professional termite treatment plans. To schedule a free termite inspection with one of our licensed and certified termite specialists or if you're interested in investing in our professional termite control treatments, give us a call at (913) 521-5794 or reach out to us today. We'd be happy to help get you started on the path to a termite-free home!
Request A Free Inspection
Complete the form below to schedule your no obligation inspection.