Professional Mosquito Control Solutions For Greater Kansas City Area Properties
In the Greater Kansas City area, as the weather begins warming up, mosquitoes will become an increasing problem. And if you've ever had an encounter with these pests, then you know how annoying they can be! In fact, mosquitoes are one of the most notable summertime pests, and also one of the most dangerous! Known for spreading dangerous mosquito-borne diseases such as dengue fever, yellow fever, Zika virus, West Nile virus, malaria, and Eastern equine encephalitis, mosquitoes are pests you definitely don't want hanging around your property. And we can help with that! With our professional mosquito abatement services, we can help minimize the mosquito populations in your yard.
Our Quality Mosquito Control Offerings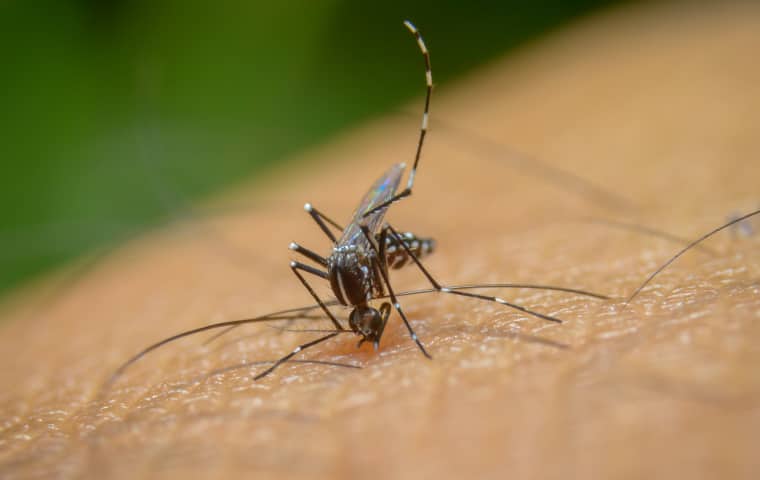 Professional Mosquito Control Inspections
When you partner with us for professional mosquito control, our first step will be to perform a thorough inspection of your yard for mosquito activity. During this inspection, we'll walk you around your home, showing you how to eliminate breeding sites and recommend a treatment program based on our findings.
At Augustine Exterminators, our mosquito control specialists know exactly where to look for these pests. During our inspection, we'll target common mosquito hotspots such as areas of standing water (puddles, bird baths, tire swings, etc.) as well as low hanging tree branches, shrubs, and deck areas.
Monthly Treatment Plans (April through October)
To keep the mosquito activity on your property to a minimum, it's important to invest in a consistent mosquito control plan for your property. Mosquitoes are opportunistic pests and will hang around all summer long if you don't take action against them. At Augustine Exterminators, we offer monthly mosquito protection plans to rid Greater Kansas City area properties of mosquito problems. From April to October, we'll schedule seven service visits to keep you covered during the entirety of mosquito season. And unlike other companies, we combine a knockdown pesticide and an insect growth regulator (both EPA registered products) with the proper application techniques to ensure the best results possible in dramatically reducing the number of mosquitoes found around your home and in your yard.
Mosquito Misting Systems
After your inspection has been completed, we'll gear up and begin spraying your lawn. Our gas-powered backpack misters make quick work of even the largest lawns and landscaping. Once we've completed our treatment, we recommenced avoiding treated areas for an hour. This allows the treatment time to penetrate the treated areas and dry.
One-Time Mosquito Treatments
In addition to our monthly mosquito control plans, we also offer one-time treatments to significantly reduce the mosquito populations on your property before a special event. Our one-time treatment option is perfect for special events such as outdoor weddings, family reunions, cookouts, pool parties, and other similar events.
If you're interested in investing in our mosquito control services, give us a call at (816) 685-8458 or reach out to us today by clicking here.
Request A Free Inspection
Complete the form below to schedule your no obligation inspection.