Professional Dryer Vent Cleaning Services For The Greater Kansas City Area
Did you know that clothes dryers cause thousands of structural fires every year? It's true! According to the U.S. Fire Administration National Fire Center's Reports, there are more than 12,700 dryer fires reported every year. And the most common cause of these fires is a clogged dryer vent. That's why in addition to our air duct cleaning plans, we also offer dryer vent cleaning services. By having your dryer vents cleaned on a regular basis, you can help prevent dangerous fires from occurring in your home.
How Does Dryer Vent Cleaning Work?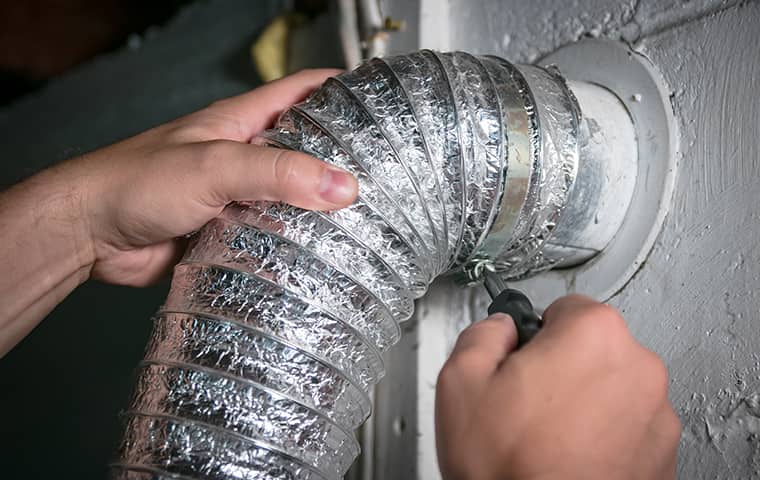 Here at Augustine, we perform our dryer vent services using truck-mounted vacuum equipment. First, we'll pull the dryer away from the wall in order to unhook the dryer hose. Next, we'll use our specialized equipment to suck out any lint, debris, or other build-up that has accumulated in your dryer vent.
After we've removed as much of the build-up from inside, we'll go outside and clean it from the outside vent using our truck-mounted vacuum equipment. This allows us to thoroughly clean your dryer vent from both sides, ensuring we remove all of the lint and debris from your dryer vent system.
* We DON'T clean the dryer ductwork that vents out through the roof.
At Augustine Exterminators, our one-time dryer vent cleaning services let you get the annual dryer maintenance that you're looking for today!
To reduce the threat of dryer fires and exhaust back-up, we recommend that our customers get their dryer vents professionally cleaned once or twice a year.
Why Do I Need My Dryer Vents Cleaned?
Did you know that only about 25% of the lint from your clothes is collected by the lint trap on the front of your dryer? So even if you clean it out regularly, not all the lint from your laundry is removed. That means that all the rest of that lint and debris is building up in the dryer vent system, restricting airflow, creating blockage, and causing your dryer to work harder than it should. As a result, you may start paying more on monthly energy bills and have a higher risk of a fire. But with a maintenance plan, you can avoid all this!
Some additional benefits having your dryer vent system and ductwork cleaned by a professional include:
Having your dryer vents cleaned can both improve energy efficiency and allow your clothes to dry more quickly.

By having your dryer vent cleared of any lint or debris, you can lessen the likelihood of a dryer fire or carbon monoxide backup.

By properly maintaining your dryer vent and ducting system, you can eliminate damp or extremely hot clothes at the end of a drying cycle.
What Are Some Common Signs That You Need Your Dryer Vents Cleaned?
At Augustine Exterminators, we recommend that our customers have their dryer vents cleaned once or twice a year, depending on how frequently you use your dryer. However, it's important to keep an eye out to make sure your system is functioning properly. Here are some signs that your dryer may need additional maintenance:
The most common indicator that you need your dryer vents professionally cleaned is that your laundry is taking longer than normal to dry.

If your dryer itself is hot to the touch or is overheating, this could be the result of a blockage in your dryer vent system that needs to be removed.

If you're clothes come out of your dryer damp or extremely hot, that's another sign that your dryer vent system isn't functioning properly and needs to be cleaned.

If you notice that your clothes smell strange after coming out of your dryer, that may be another sign that you need your dryer vents professionally cleaned.
For more information about our dryer vent cleaning services, feel free to give us a call at (816) 685-8458 or reach out to us at Augustine Exterminators!
Request A Free Inspection
Complete the form below to schedule your no obligation inspection.