Quality Carpet Cleaning Services For Greater Kansas City Area Homes & Businesses
In high traffic areas of the home such as living rooms and hallways, carpets can quickly become traps for dirt and debris. And after a while, regular vacuuming won't be able to lift the ground-in dirt. But with our professional carpet cleaning services, we can salvage seemingly ruined carpets, returning them to a like-new condition! Whether your rugs have been damaged by water, stains, pets, or some other factor, the team here at Augustine can help! Additionally, we'll tackle the hard-to-reach areas of your home, including stairs.
We're In Your Neighborhood
Enter your zip code below to see special offers in your area.

Our Professional Cleaning Solutions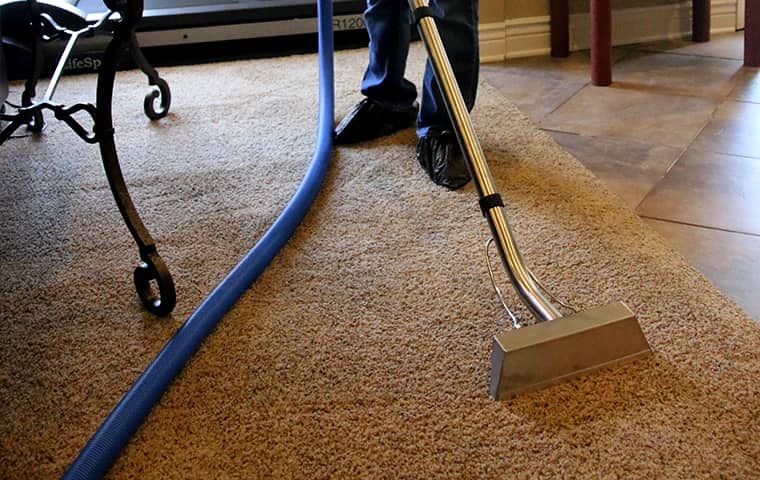 Quality Carpet Cleaning Solutions
At Augustine Exterminators, our team provides cleaning services for both residential and commercial carpets. We use the most efficient carpet cleaning method on the market and truck mounted steam cleaning equipment. We'll also combat pet odors and stains. Yes, even red dye stains! After your carpets are clean, we'll dry and de-humidify them to ensure that no lingering mold or mildew remains and apply a stain protector to help keep them in tip-top shape!
Our equipment provides 400 pounds of pressure at 230 degrees, ensuring a thorough clean that reaches even the deepest fibers of your carpet.

During the cleaning process, all carpets are pre-sprayed to break up dirt and grime, then vacuumed to remove leftover dirty water and cleaning solution.

Different stains require different treatments, which is why we use individual cleaning products for each stain we encounter when cleaning your carpets.

Finally, we complete your carpet cleaning by spraying hot water and specialized cleaning solution through six-jet wands onto your carpet.
Rug Cleaning Services (Large Throw Rugs & Area Rugs On Hardwood Flooring)
Area and throw rugs often require different cleaning methods than wall-to-wall carpeting, which is why we offer this as a separate service. Most area rugs require cleaning once or twice per year, and we offer this service on a flexible basis, based on your needs. Rug cleaning is available for both residential and commercial properties. It is an especially popular service for restaurants. If you have an oriental rug, you don't need to worry. At Augustine, we use a different cleaning solution for oriental rugs than we do for regular rugs, ensuring that your rug receives the correct treatment to keep it in great condition.
Stain Removal Services
Accidents happen. So when your carpet or area rug ends up with a stain you just can't seem to get rid of, the experts at Augustine can help. Regardless of the type of stain - from pet stains to wine stains - we can treat it! In addition, we also offer carpet and rug protectors, such as Scotch Guard, to protect your carpet or rug from stains in the future. Our one-time stain removal services are available for both residential and commercial properties.
Tile & Grout Cleaning Services
Over time, dirt and grime build up on tile and grout. Despite your best efforts, sometimes your cleaning methods are not as effective as you'd like them to be. When you need a deep clean for your tile and grout, Augustine is the business to call. We offer our tile and grout cleaning services for both residential and commercial properties.
Our equipment provides 900 pounds of pressure, providing a clean that you can't get on your own. We use different wands and various chemicals based on the material. For example, stone requires a different cleaning solution than ceramic tile. After cleaning, we seal the grout, ensuring a long-lasting clean.
Upholstered Furniture Cleaning Services
It's not only your floors and carpets that get dirty over time. Upholstered furniture also traps dirt, grime, pet fur, and dust. Cleaning your furniture on your own can be tricky without the right equipment or knowledge of how to safely clean the fabric without damaging or discoloring it.
Augustine can provide the right equipment along with a knowledgeable service technician to clean your upholstered furniture thoroughly and safely. We use appropriate chemicals depending on your furniture's fabric type, so you can rest assured that your furniture will look as good as new when we're done.
* Our upholstered furniture cleaning services are available for both residential and commercial properties. We also provide cleaning services for RVs, boats, and automobiles.
Why Do I Need My Carpets Cleaned?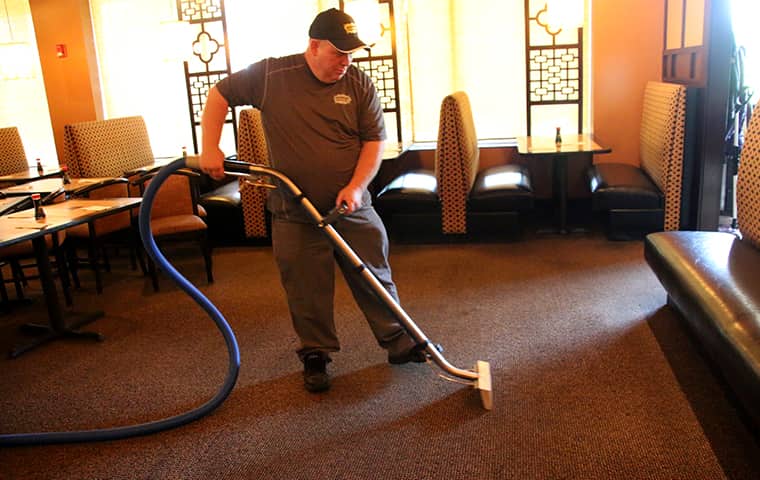 Why Do I Need My Carpets Cleaned?
Are your carpets dirty, stained, or in a state of disrepair? If so, these are all reasons to get them professionally cleaned. And here at Augustine, we can help with that. Many people would be tempted to throw their carpets away and start fresh, but there's actually another option! With our professional carpet cleaning services, we can take your dirty carpets or rugs and make them as good as new.
Additionally, as we previously mentioned, carpets in high traffic areas of the home are likely to collect dirt and debris. And while vacuuming can remove the dirt on the surface of your carpets, it does nothing to eliminate the grime hidden deep within your rugs. But with professional carpet cleaning, we can get to the root of the problem and remove all the dirt that's hidden away in your rugs. Not only that, our carpet cleaning services will be able to get into the hard-to-reach or commonly overlooked areas of your home. Our professional carpet cleaners are skilled and experienced and will make your carpets appear as good as new.
Hosting an event in your home can be stressful. And the last thing you need to worry about are the stains or trapped in odors in your carpet. Here at Augustine, we are here to help ease the stress of event planning. Give us a call at Augustine today to get your carpets ready for graduations, holiday parties, and other special occasions.
Can I Clean My Carpets Myself?
Sure, but who has the time? Many people don't think about it, but carpet fibers differ across the board. Because of this, different carpet materials will absorb smells and stains differently, and therefore will require different treatment methods. Based on your specific situation, our professionals will know the most efficient way to treat your flooring. If your home is suffering from unsightly stains, odors, or just needs a refresh, we're here for you. No job is too big or too small for the team here at Augustine Exterminators!
Restore Your Carpets With Our Trusted Carpet Cleaning Services!
At Augustine Exterminators, we take carpet cleaning just as seriously as we do our pest control services. It's about making you feel comfortable and confident in your space. To get started with our cleaning services for your Greater Kansas City area home or business, give us a call today and we'll swing by to provide you with a free quote for your service.
We Love Referrals!
Participate in our referral program and earn a $15.00 bill credit! For each referral you provide that becomes an Augustine customer, we'll give you $15.00 off your next bill! In addition, we will deduct $15.00 from your friend's bill as well. There is no limit to the number of referrals you provide. Thank you in advance for your business!
Request A Free Estimate
Complete the form below to schedule your free estimate.