Quality Air Duct Cleaning Services For Greater Kansas City Area Homes
Did you know that your air ducts act like a magnet for airborne particulate matter, including dust, hair, pet dander, dirt, dead skin cells, and pollen of all types? It's true! And not only that, but the air ducts in your home are also a prime habitat for dust mites, spiders, fungi, mildew, bacteria, and microbiological growth (e.g., mold). These are not the kinds of things that you want flowing freely through your heating, ventilation, and air conditioning systems, especially if they have a family member that suffers from allergies or asthma.
That's where we come in! With our professional air duct cleaning services, we can sanitize your air ducts, leading to a cleaner airflow within your home. And we can even do it while we're performing your carpet cleaning services, if you'd prefer. If we already service your property, ask your technician about adding this service to your existing plan. If not, reach out to us at Augustine Exterminators today to find out how we can best meet the specific cleaning service needs of your residential property.
How Does Air Duct Cleaning Work?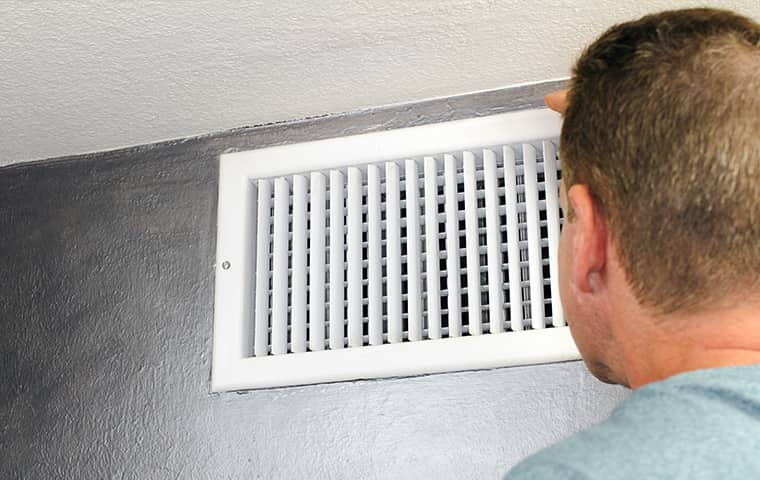 At Augustine, we eliminate airborne contaminants in air ducts that can affect your air quality and the overall health of your family using the following process:
Step 1: To begin our air duct cleaning process, we'll first clean and sanitize the air duct covers around your home. These covers are a common spot for cooking grease, dust, nicotine, and other contaminants to build up, so removing this grease and build-up means that less dust will be able to enter your system. Additionally, having cleaner ducts also mean that your filters will last longer.
Step 2: Next, we'll deep clean the air supply source and the return air supply.
Step 3: Lastly, we'll clean the air ducts in your home with the RamAir 700PSA air-ball system. This system utilizes highly pressurized air to blast contaminants and airborne particulates out of your air ducts. After the contaminants have been loosened, the system will remove them with a high-powered vacuum system.
Our Air Duct Cleaning Treatment Plans
Our air duct cleaning options also include an additional air duct sanitizing service. Often used in hospitals and nursing homes, this extra step can make a huge difference in your home's air quality and leave behind a clean, fresh scent. For those with compromised immune systems or allergies, we recommend including this step in your treatment plan.
Why Do I Need My Air Ducts Cleaned?
Many different factors can influence the air quality of your home. When it comes to air quality, pet dander, dust, and pollen are some of the leading allergens that affect homeowners. And while a good air filter can help remove many of these particulates from the air, even the best air filters can lose their effectiveness over time. The build-up of bacteria, dead skin cells, and dust can all create a coating that sticks to your filters and air ducts. Once a film has accumulated within your air ducts, the chances that mold and harmful bacteria will develop increases significantly. In addition, the air that passes through dirty vents and ducts also carries allergens, adding to the problem in your home.
What Else Lives In My Air Ducts?
Not only can air ducts harbor harmful contaminants and allergens, but dirty air ducts can also function as a highway for pests to infiltrate your home. During the cleaning process, we'll inspect your outside vents to make sure they remain damage-free. Damaged air vents can encourage infestations of pest birds, rodents, and insects. In particular, bed bugs and spiders are known for entering homes and buildings through air duct systems. By scheduling regular cleanings, we can ensure that your air ducts stay pest-free.
Can I Clean My Air Ducts By Myself?
Regular maintenance on air ducts is best handled by a professional. However, there are things that you can do around your home to improve air quality in between visits. To accomplish this, make sure to vacuum and dust regularly to remove particulates from your carpets as well as clean and disinfect couches and other upholstered furniture. In addition, if you have pets, consider having your carpets and flooring deep cleaned. Maintaining regular upkeep reduces the number of particulates that enter your air system.
If you're interested in investing in our residential air duct cleaning services, give us a call at (913) 521-5794 or reach out to us at Augustine Exterminators!
Request A Free Inspection
Complete the form below to schedule your no obligation inspection.