Trusted Pest Control Services For Claycomo, MO
Whether you love museums, parks, or even theme parks, Claycomo is a great place to be! With so much to do, it's easy to get caught up in the thrill of living or working in this wonderful place. One of the unfortunate elements of life that can pull us away from that feeling is the presence of pests running around our property.
Whether you own a business or a home in Claycomo, our experienced professionals are here to help. At Augustine Exterminators, we provide quality services for our valued customers at reasonable prices. Our Claycomo pest control services always come with a satisfaction guarantee to put your mind at ease. We're a company that's sizeable enough to handle any pest problem you're dealing with while being small enough to cater to your situation with the personal attention you deserve.
When you work with us, you can expect friendly and courteous customer service throughout the whole process. We utilize the most advanced and modern methods to make sure your home receives top-notch pest protection. Our local experts will earn your return business and referrals for all of the pest control needs in this great community.
Augustine Exterminators is a name that you can trust. We're proud to provide the most reliable pest control services around. Give us a call to start working with us today.
Residential Pest Control In Claycomo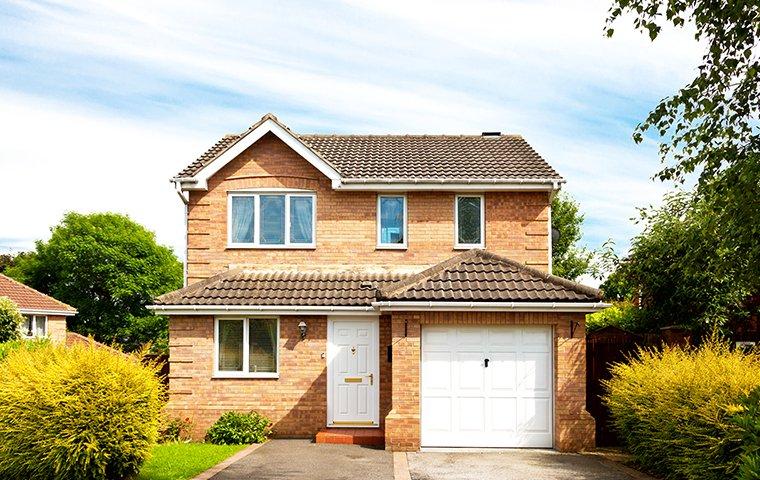 Augustine Exterminators is the best company to depend on for all of your Claycomo residential pest control service needs. We have a 48-hour turnaround after a call, without requiring you to sign a contract or lock you into an agreement. Not only can you trust us because we're the largest independent pest control business in the area, but because our employees have 17 years of experience on average. We know what we're doing, and are well versed in the best tactics to use to get your home in Claycomo pest-free again. We've been helping our local communities since 1966, and are proud to keep living up to being the most trusted local name in home pest control.
We're here to help with any of the common pests you'll find in Claycomo, including termites, rodents, mosquitoes, ants, bed bugs, stinging insects, pantry pests, and more. If any of these are pestering you, we're waiting on the other end of the phone. Have us provide you with the professional help you need to get your home safe and free of pests for good.
Commercial Pest Control In Claycomo
We're honored to be Claycomo's choice for quality commercial pest control services. If you own a business in this community, you can count on our experts to protect your valuable property from pests. Bring us out to help any time you suspect pests in or around your business, and we'll ensure that the problem is rectified as conveniently and quickly as possible, so you can focus your attention on your business where it belongs.
We're able to serve a variety of commercial properties in a number of different industries, including:
Offices
Hospitals
Hotels
Apartment complexes
Office parks
Storage facilities
Fire stations
Police stations
Municipalities
Parks
Whenever you need effective and affordable commercial pest control services in Claycomo, call on Augustine Exterminators for help. We'll get your business in Claycomo back to being pest-free again before you know it.
Tips For Keeping Carpets In Pristine Condition In Claycomo
Augustine Exterminators also offers a premium carpet cleaning service in Claycomo for your home or business. For example, we cater to many restaurants on a monthly basis in order to keep their health and safety conditions as high-quality as possible. We offer one-time, monthly, or quarterly services depending on your property's unique needs.
For our carpet cleaning service, we vacuum and then deep clean your carpet. With high-temperature water streams and effective yet gentle cleaning solutions, we provide an exceptional clean. Our top-notch system filters and removes as we clean your carpets, leaving no residue behind. Dirt, pet odor, allergens, and more are all completely removed with this thorough and effective service.
When you bring us out to clean your carpets, consider taking advantage of our tile and grout cleaning services as additional help. Give us a call to schedule your appointment with us today!
The Effective Bee Removal Solution For Your Claycomo Yard
The best and most effective way to remove bees from your yard in Claycomo is to rely on Augustine Exterminators for professional bee control services. We'll safely and thoroughly remove their harborage materials and potential nesting sites to get rid of your bee problem for good. We'll also make recommendations for future prevention, like covering food sources and trash more tightly, to help you avoid having to deal with bees in the future.
For the best bee pest control service in the area, rely on our local experts here at Augustine Exterminators. Give us a call to schedule your appointment with us today.
Request A Free Inspection
Complete the form below to schedule your no obligation inspection.