Why You Should Always Let The Pros Deal With Termites In The Kansas City Metro
May 15, 2023
Termites are "ant-like" creatures that consume cellulose, a material found in wood and similar types of vegetative matter. Each year in the United States, termites create several billion dollars in property damage - often in residential settings. In the Kansas City Metro region, eastern subterranean termites, which form underground nests, are the most common species.
How do I get rid of termites? In most instances, consulting with a local pest control professional is the best option. A Kansas City Metro pest control expert knows how to get rid of termites in your house and will explain some of the best termite prevention tips.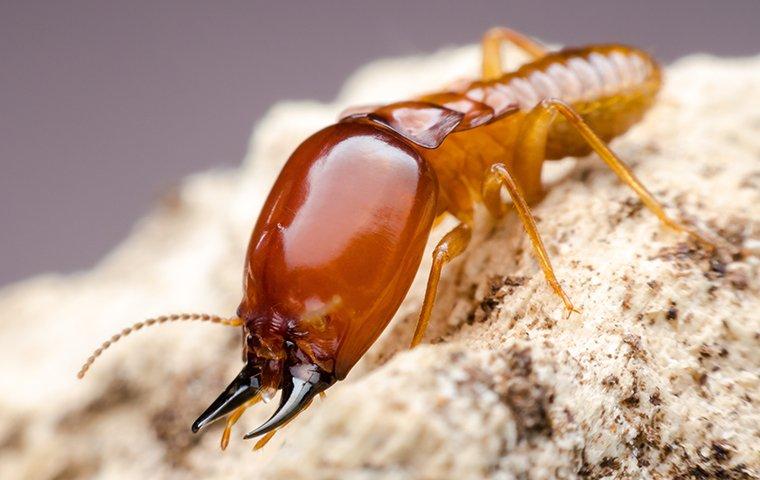 How To Identify Signs Of Termite Damage
How can you tell if you have termites in your Kansas City Metro home? Because termites often erode the interior of a wooden structure initially, property owners might not initially detect this activity. Doors and windows often become difficult to open and close as structural shifts occur internally. Interior walls often appear water-damaged or have peeling paint.
During the spring months, look for "swarms" of winged termites. These reproductive members of a termite colony are often misidentified as flying ants. This termite "swarming" activity is a prelude to their mating season.
Are termites active in the winter months? While termites generally avoid frigid conditions, they will usually remain active underground or in areas of your home, which likely allows them some warmth.
Why Are There Termites In My Walls?
Many local property owners struggle with understanding why termites in the Kansas City Metro area invade certain properties.
Here are some reasons that attract these undesirable pests and ways to deter them:
Promptly remove dead branches, fallen trees, and other wood debris from the yard area.
Consider alternatives to mulch for gardens and landscaping.
Ensure that basement and crawl spaces are properly ventilated and use dehumidifiers to reduce moisture.
Keep gutters and downspouts clear so that the water flows away from the base of the home.
Move firewood piles away from the house and keep shrubs and other vegetation trimmed back away from the exterior.
While limiting the aforementioned property conditions will help with prevention, existing termite infestations are best handled by a trained pest control expert.
The Problem With Trying To Get Rid Of Termites By Yourself
Your home represents a costly investment that deserves prompt attention for a licensed pest control expert. Too many local property owners try taking matters into their own hands using mass-marketed products from local stores that are generally ineffective. Contacting a local professional is usually a much wiser option.
How Do I Permanently Control Termites?
How do you get rid of termites in the Kansas City Metro area? The best way of handling these problems usually involves receiving assistance from a provider of professional termite control services.
Augustine Exterminators has provided termite control services for the Greater Kansas City-area property owners since 1966. After receiving an inquiry, we will dispatch a trained technician to the premises to perform a detailed property assessment. We look in hard-to-see locations inside walls and other areas for any indications of termite activity.
We use a host of the latest termite products, which include the Termidor® HP II High Precision system. This injection system ensures that the termiticide is applied without the need for laborious digging or drilling methods. This option prevents any substantial disruptions throughout patios, decks, and landscaping. Other product options that we might deploy include liquid treatments, baiting systems, and more.
As a comprehensive local provider of pest control solutions, our specialists also effectively treat problems involving mosquitoes, ants, rodents, and other burdensome creatures that might create health risks.
To learn more about our residential and commercial pest control services in The Kansas City Metro, contact our office today. Remember to ask your representative about our available discounts for seniors, military members, and more.