Termites In Greater Kansas City Are Hard To Find And Harder To Get Rid Of
June 14, 2022
Termites have been around for millions of years, and there is a reason why they are so feared today. They are known as "silent destroyers," and in as little as six months, they can cause significant damage to your home. Termites are responsible for over five billion dollars in property damage every year, which is why early and effective termite control is so important. Termites are one of the most damaging pests you can have in your home, which is why you need effective Greater Kansas City pest control from Augustine Exterminators, INC.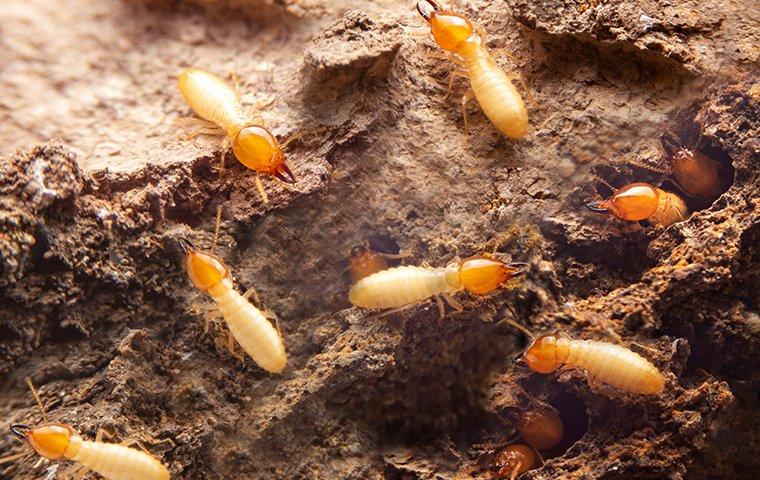 What Do Termites Look Like?
One of the hardest things involved with a termite problem is knowing that you have one in the first place. Because of their size and where they are located, spotting these actual pests can be tricky. They spend most of their time located in areas where you cannot see them, which is why you might not spot these pests until it is too late.
One of the best ways to actually find termites in your home is to know where to look. These pests might be found consuming the wood that makes up your home, but may also be found outside your home, as well. When there are active termites around your home, you can sometimes find long mud tubes made of wood and soil connecting outdoor nests to your home. Beyond finding these tubes, you can also possibly spot the pests themselves as well as discarded wings around doors and window sills.
Termites are typically around ⅛ of an inch long and are creamy-white or yellow colors, but they can also be darker browns and blacks. They are long and narrow and have prominent antennae.
What Is The Best Way To Identify Termite Damage
You can potentially spot these pests crawling around, but the best way to avoid termite damage is to spot early termite damage before it gets out of hand. Termite identification can be very difficult, which is why being vigilant for early signs of termites and termite damage can be so important.
Some of the best things to look out for are:
Mud tubes on the outside of your home
Discarded wings near doors and window sills
Darkening and blistering wood structures
Soft wood that sounds hollow when tapped
These are some of the early signs of damage that can be spotted, and once you find them, you'll want to call for professional pest control right away. If you spot these signs early enough, you can save yourself the stress of an infestation as well as potentially thousands of dollars in property repairs to maintain the structural integrity of your home.
Is There A Way To Prevent Termites For Good?
Termites can come into your home very easily right underneath your nose, so before this happens, you can take some preventive measures. The best things that you can do are:
Put a barrier between the wood of your home and the ground.
Reduce moisture as much as possible, as many termites prefer wood softened by excess moisture.
Keep firewood, mulch, and other wood stored away from the foundation of your home.
The next best thing that you can do after following early preventive measures is to get the experts at Augustine Exterminators, INC to perform an efficient and thorough termite removal.
Professional Termite Control In Greater Kansas City
At Augustine Exterminators, INC, we can conduct free inspections of your Kansas City metro home and then deal with your unique termite problem with a treatment tailored to meet your needs. We offer a variety of services, including a liquid termite treatment using Termidor® to get rid of active termites, as well as an advanced termite bait system that protects you year-round from future pests.